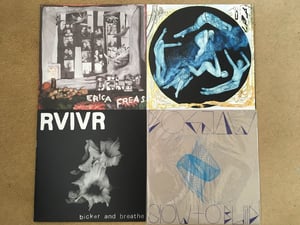 $

20.00
An assortment of LPs, only a few copies of each.
SOMNIA - How The Moon Shines On The Shit LP
ERICA FREAS - Belly LP
HOT TEARS - The Chorus LP
RVIVR - Bicker & Breath LP
RVIVR - S/T LP
RVIVR - The Joester Sessions LP
DOGJAW - Slow to build LP
All released on Rumbletowne records.
You can listen to them all here:
https://rumbletowne.com/bands
LOCAL / NO SHIPPING OPTION:
IF YOU WOULD LIKE TO PICK UP YOUR ORDER FROM ME (In Marrickville NSW during work hours) - PLEASE SELECT "Afghanistan" FOR SHIPPING AND YOU WONT BE CHARGED POSTAGE THEN EMAIL TO ORGANISE.