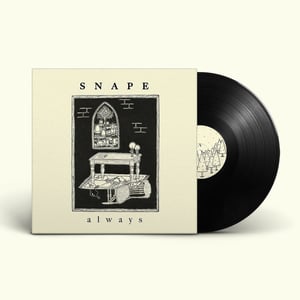 $

25.00
(will ship just before Jan 19)
BRICK28.
SNAPE - ALWAYS LP
Out on ONE BRICK TODAY January 19th 2018.
Limited to 300 copies.
Listen to the first single off ALWAYS at : https://onebricktoday.bandcamp.com/album/snape-never-wanted-anything-single
-------------
Sydney's Snape has announced its debut LP on DIY label One Brick Today, a relationship formed through both the label's and the band's passion for championing women and queers in music.
From its humble beginnings in a bedroom, Snape evolved from a solo-project in late 2015 after blossoming into a full lineup.
Circling around the DIY scene in Sydney for the past couple of years, Snape has enjoyed a steady rise in following from the Sydney and interstate DIY communities after brief jaunts to Melbourne, Canberra and Newcastle. During this time, 'Always' was formed, a collection of ten songs soaked in 80s shoe-gaze nostalgia with punk and metals roots poking through. Recorded in June with Joe Andersons at Woodriver Studios, 'Always' is an introspective collection of ten songs that all reveal a different part of a narrative that ultimately ends in tragedy.
Though the band's name is derived from an all too familiar story, that is where the explicitness ends, with lyrics that aim to tell a story through an exploration of emotion and sonic exploration, rather than specific references.
The album was written, recorded and mixed on the land of the Cadigal-Wangal people of the Eora nation and the Awabakal people respectively.